Welcome!
If you require this meeting in a different format, please submit your request by emailing
info@denvermoveseveryone.com
or calling 303-524-8340.
We're happy you are here!
No matter whether you live, learn, work or play in Denver, we appreciate your input to help us get Denver where we want to go.
Spend a few minutes with us and learn more about Denver Moves Everyone 2050, tell us what you value, time travel through Denver's history, and help us build Denver's transportation future.
denvergov.org

Welcome!
What is Denver Moves Everyone 2050?
Denver Moves Everyone 2050 is a citywide plan for the future of transportation in our city.
This plan will identify transportation solutions to help everyone and everything get where we need to go – safely, conveniently, equitably, and sustainably.
Your Input Matters!
Your Input Matters!
Our Transportation History.
Denver didn't become Denver overnight. Transportation decisions in the past continue to shape our city today.
Let's take a look at Denver in the past and the legacies we face today.
Denver Then and Now.
Our Transportation History.
Denver Then and Now.
See the differences between Denver areas then and now by sliding the bars on the images below.
Yesterday's Decisions
As long as 600 years ago, the Ute, Cheyenne and Arapaho tribes were present in the Denver area and reliant on the tribal trade routes along the South Platte River and Cherry Creek waterways. These same routes were adopted by the early settlers of Denver, and by the 1880's served as the footprint for the development of the railroads serving the area, disrupting centuries old Native American trade routes. In the late 1950's, this once-tribal trade area became home to the I-25 highway corridor.
Today's Legacy
Today, the City and County of Denver straddles the South Platte River and Cherry Creek, as well as the expanse of the rail lines, rail yards and I-25 freeway. Denver neighborhoods struggle with community connectivity across this expansive barrier.
110 years ago, everything we needed arrived by rail. After highways expanded, the trucking industry and delivery of goods boomed.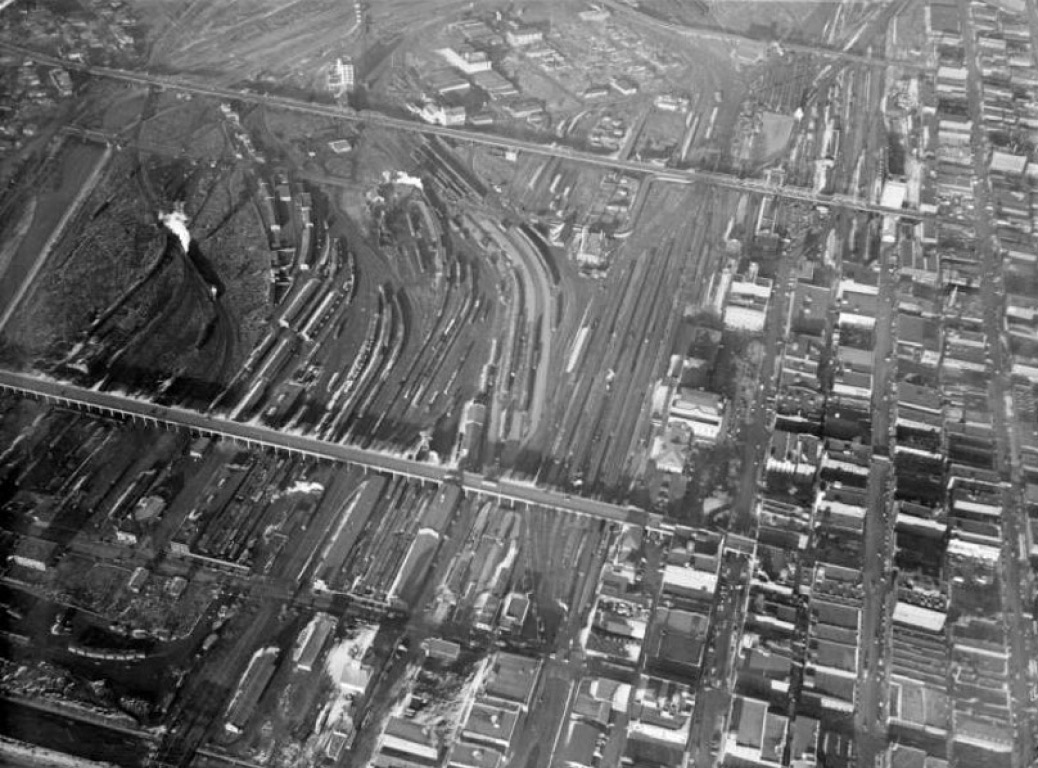 Today, historically industrial areas are being redeveloped while our expectations for next-day delivery means more trucks in more places at more times. We can work to better balance and to better move goods, services, and people in the future.
100 years ago, a lack of regulations meant that we treated our rivers and open spaces as disposal sites for waste and pollutants.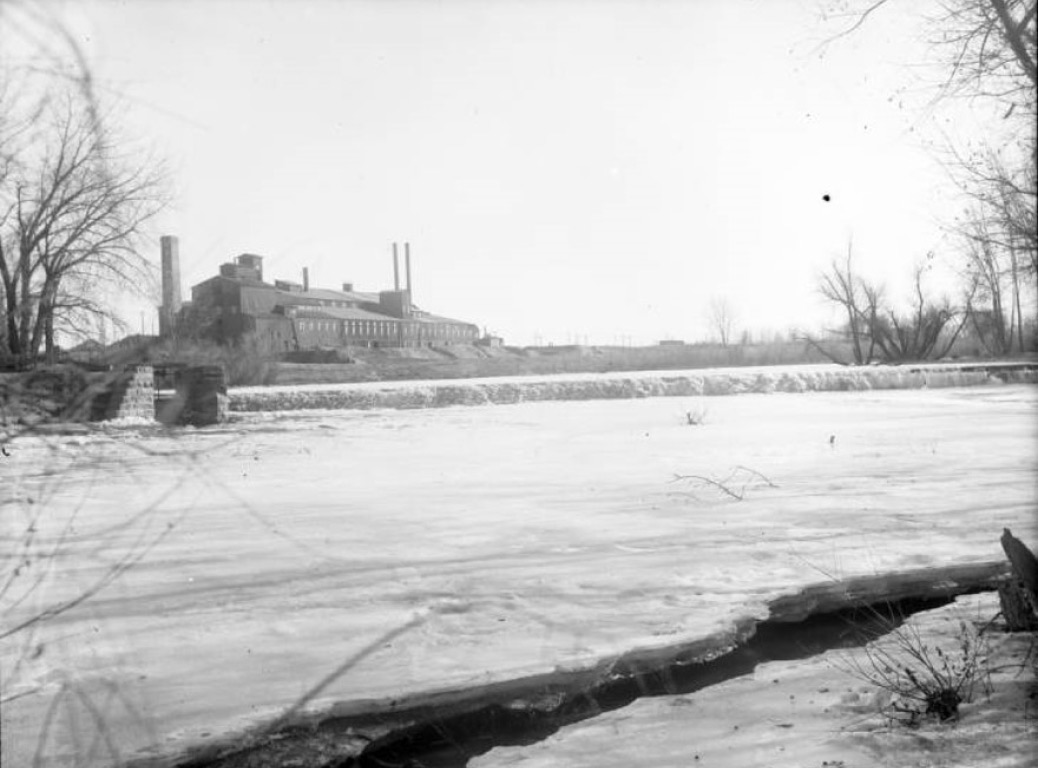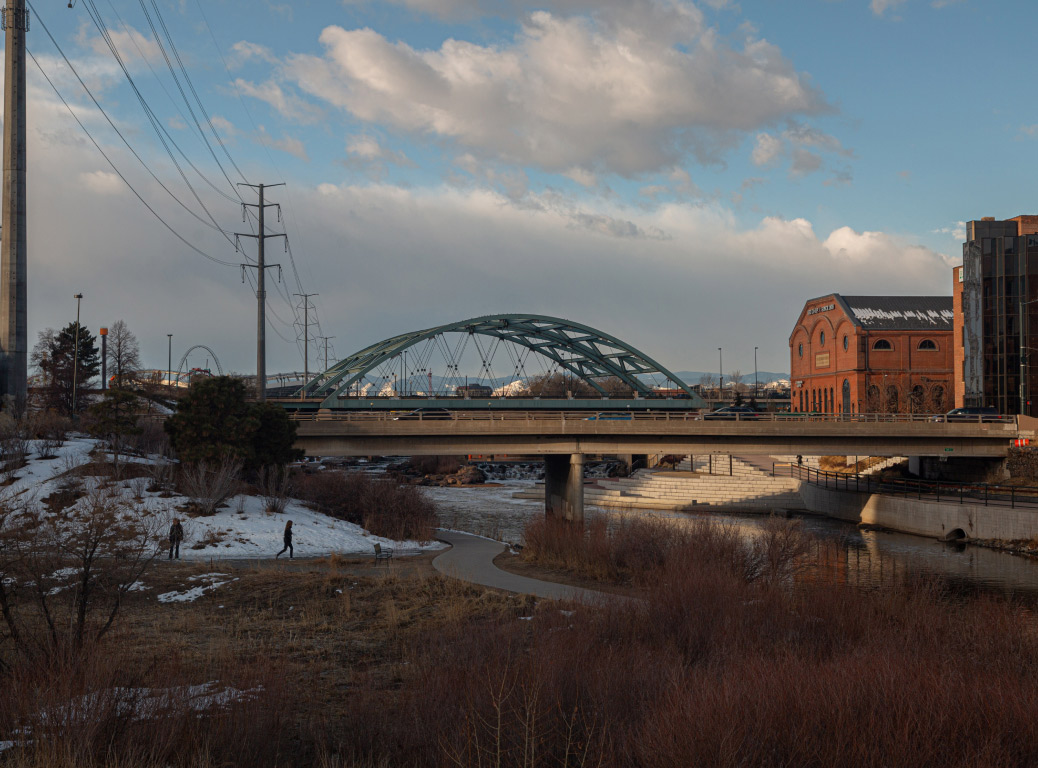 Today, we are continuing to clean up our waterways and open spaces. Together, we must also prepare for new climate challenges and energy futures.
100 years ago, our city was connected by streetcars with shops at every stop. As local street networks expanded, buses and autos replaced streetcars.
Today, communities are built around historic streetcar stops and are what makes our neighborhoods feel like home. Transportation investments can continue to help build accessible and appealing communities.
90 years ago, streetcars, bicycles, and pedestrians filled our streets. As cars became more popular, street space was given over to the automobile.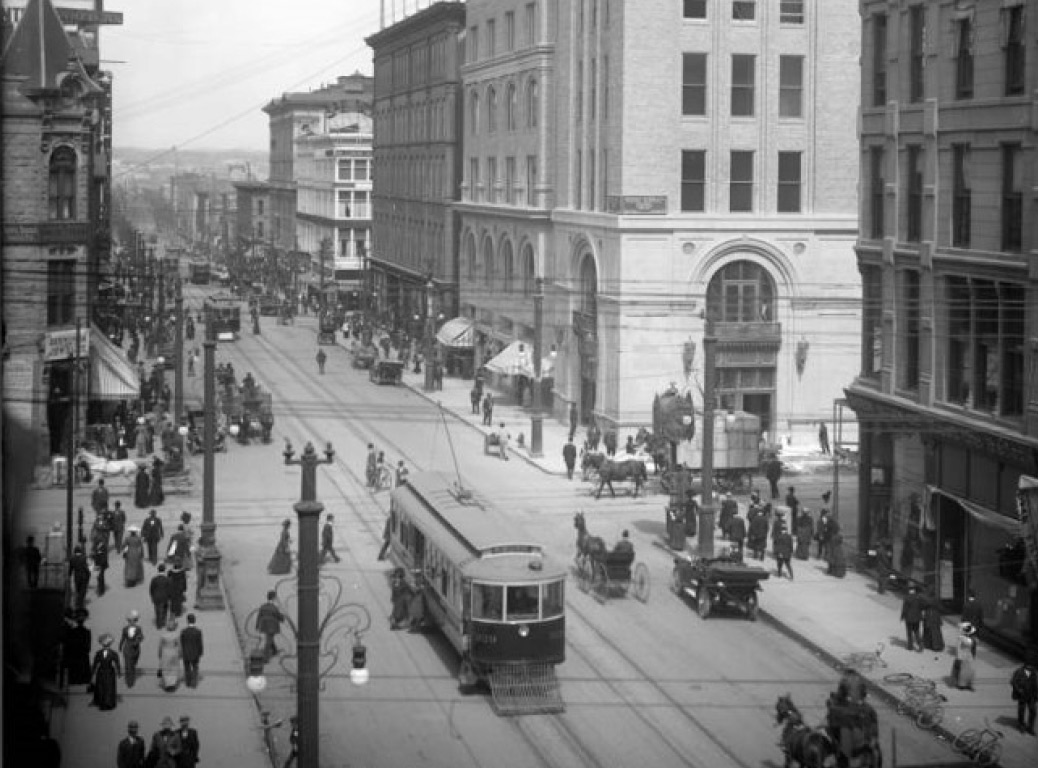 Today, streets are Denver's largest shared public spaces. Together, we can make improvements to make streets safe for everyone again.
80 years ago, roadway development, housing policies, and urban renewal efforts further disenfranchised low-income neighborhoods.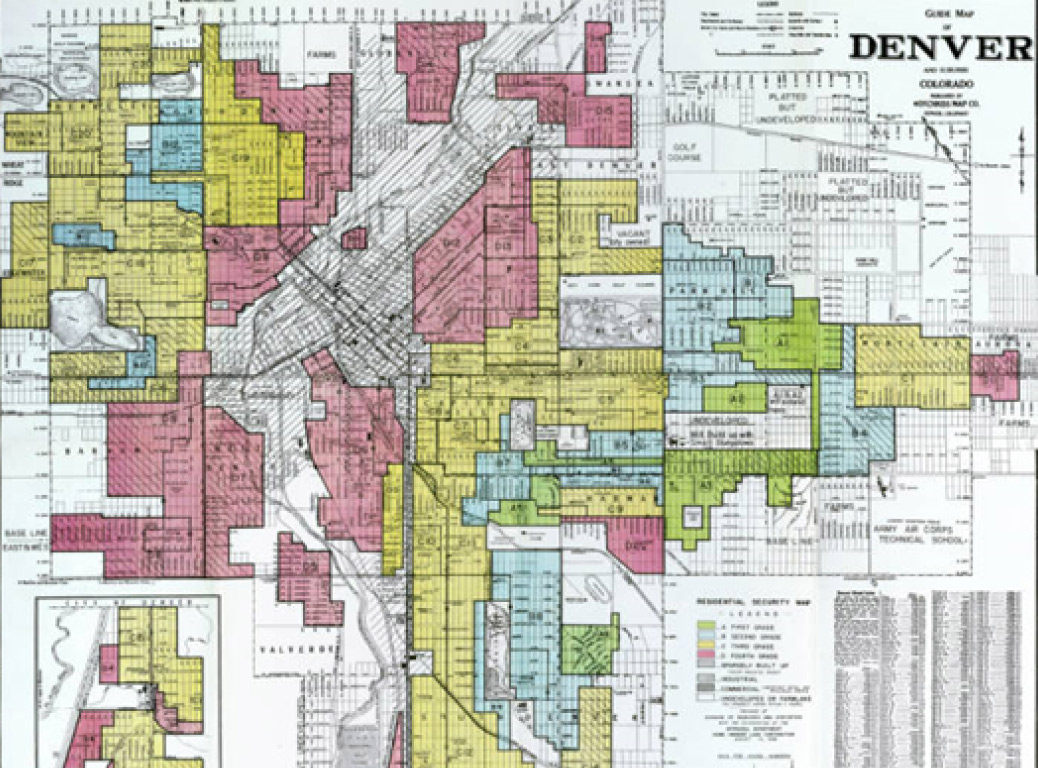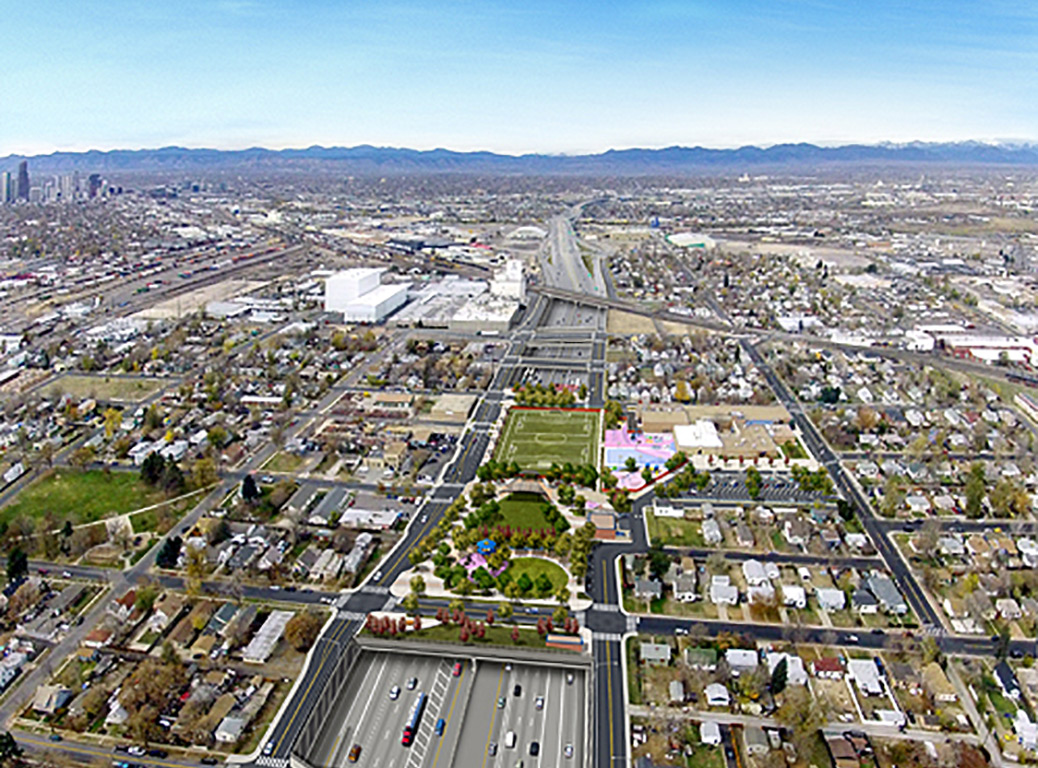 Today, many communities are still divided by our busiest highways, which impact residents' health and economic opportunities. Together, we can work to make our city more equitable with greater opportunities.
60 years ago, highway expansion modernized our city and increased the flow of goods, people and services. But these investments also divided our communities of color.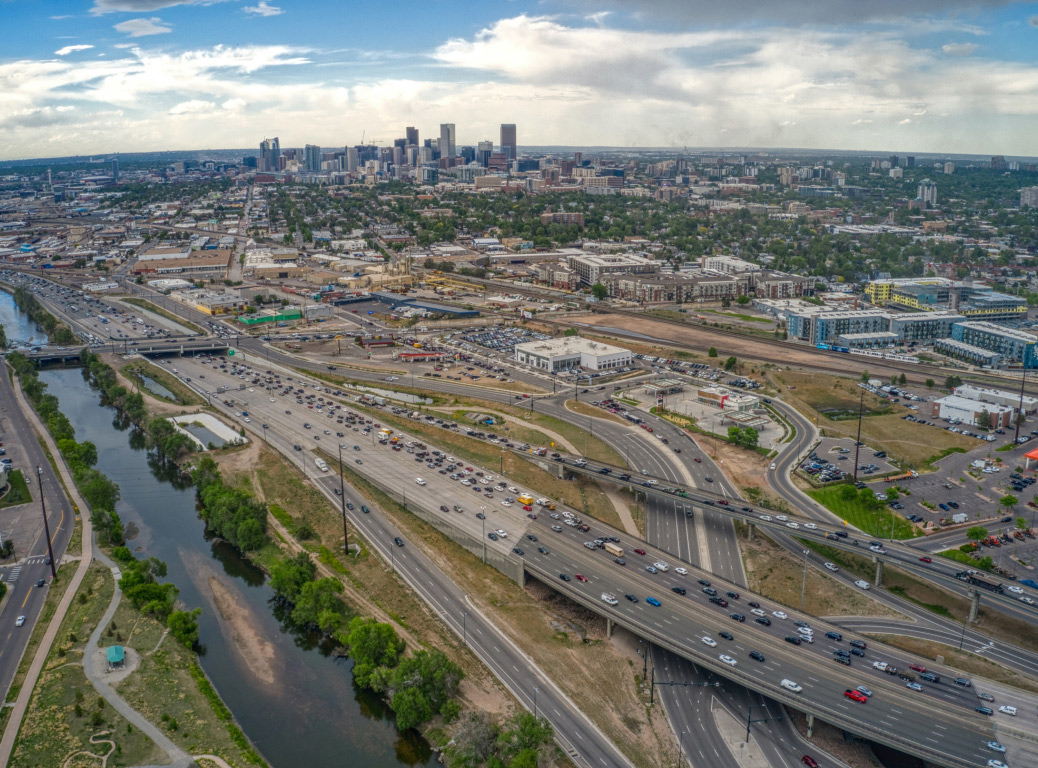 Today, our highways are congested and communities are still disrupted. Our traffic problems cannot be fixed by adding more lanes. Together, we can make travel more convenient and more accessible for residents.
30 years ago, thanks to new emissions standards, our air became cleaner, after decades of industrial and traffic smog.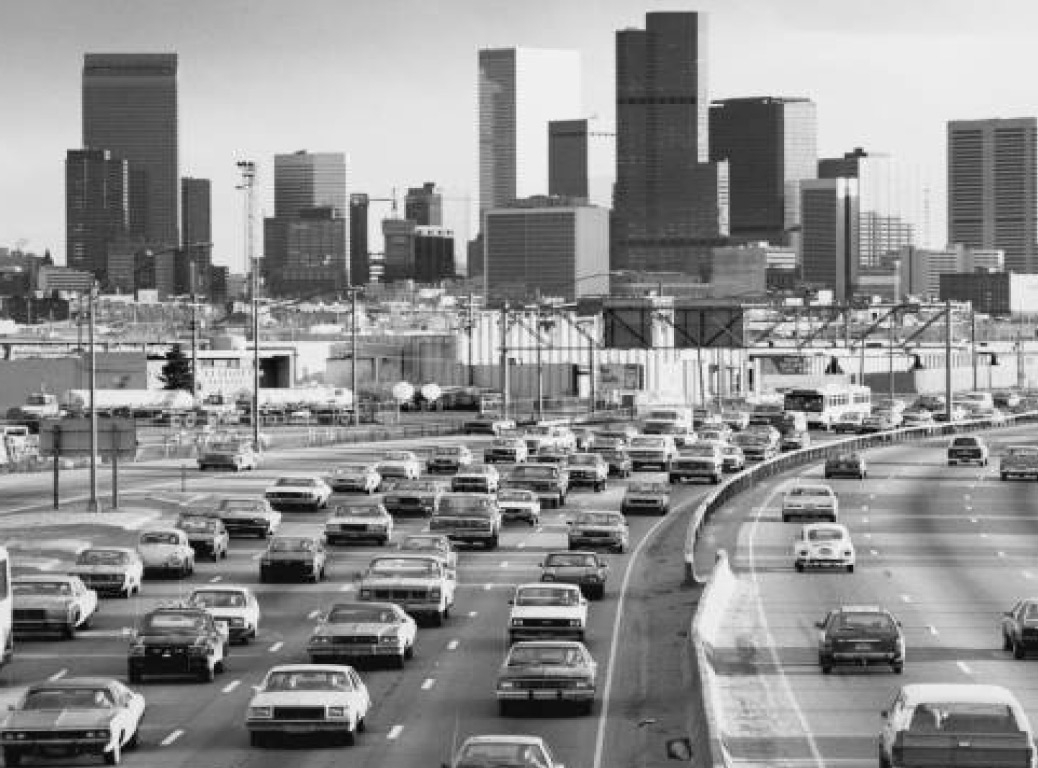 Today, our air remains polluted. New vehicle technologies and cleaner alternatives will help, but together we can work toward changing the ways we get around.
On-the-go in Denver
On-the-go in Denver
Today and Tomorrow.
Denver grew by 10,900 people in the last year
If every new resident relies on a car, our traffic will significantly worsen. How should we think about new ways we all travel?
Transportation contributes to 29% of greenhouse gasses in Denver.
Denver's climate will feel very different in 2050. How can we adapt to and mitigate for an uncertain climate future?
Denver ranks 4th worst among large US cities for air quality.
The air we breathe affects quality of life in our neighborhoods. How can we improve health outcomes for the next generation?
Did you know 49,932,526 tons of products move through Denver every year?
Every day, more packages, parcels, and products are moving across our city. How do we meet next-day demands and think about new ways to deliver goods and services?
10% of households don't have access to a car
Transportation has direct consequences for how inclusive our city is. How do we address our history of racial inequity and provide transportation investments that provide opportunity for all?
Zero deaths from traffic fatalities is our goal.
Even just one death is too many. How  can we build safer streets and  achieve our vision for zero traffic fatalities?
7,300 new residential buildings are constructed in Denver each year.
The way we build and design our streets, homes, shops, and shared spaces impact how we experience Denver. How should we think about future growth and development?
Building our Ideal Future together!
Today and Tomorrow.
Building Our Ideal Future Together!
Your Voice Matters
What you told us today will directly inform our goals for Denver Moves Everyone 2050 and your ideas will help us craft a vision for a safer, more convenient and more sustainable Denver.
Thank You for Helping Us!
Back to the Beginning!
Thank You for Helping Us!
We'll come back this summer with more on this plan, including our shared vision and ideas for goals based on your feedback. Talk to you soon!
There will be multiple opportunities for you to provide feedback throughout this journey. Your voice matters!
Be sure to join our distribution list to continue your involvement in this project.
Share this site with your friends, family, and neighbors!
scroll for more